September 20, 2023
Youth Crime in Australia
Youth crime is a complex and sensitive issue, and in recent years, the question of whether Australia is experiencing a youth crime crisis has been the subject of intense debate and speculation amongst media, policymakers and the public. Unquestionably, concerns about youth crime are currently very high, and the severity of youth crime appears to be getting worse.
What Do the Statistics Say?
During 2021-22, 45,210 youth offenders (aged 10 to 17 years) were recorded in Australia, according to the Australian Bureau of Statistics (ABS). Whilst this figure could still be considered high, and arguably, more needs to be done by way of prevention, early intervention and rehabilitation to curb youth crime – youth offender rates have generally declined over the last 14 years.

Recorded Crime – Youth Offenders (Principal Offence) 2021-2022 (ABS)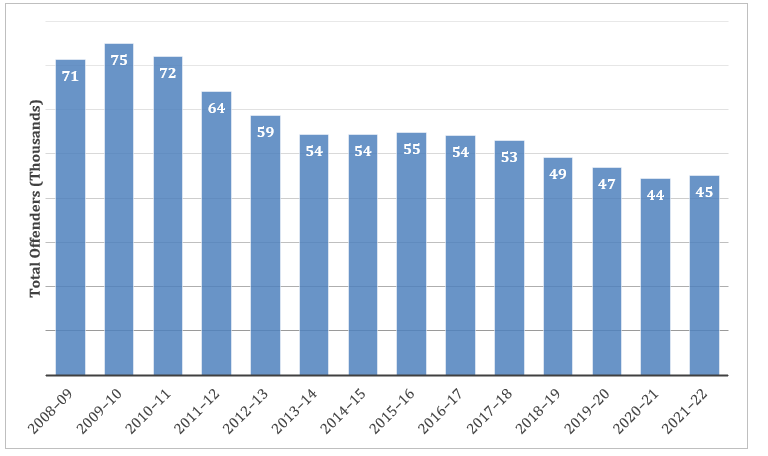 While these big picture numbers may provide some comfort, they likely to do little to quell fears of those who have or know somebody who has experienced youth crime in their neighbourhoods, or who are concerned about the behaviours of their own child or adolescent. Importantly, while aggregate statistics show an improvement in these measured metrics, there are unfortunately many specific geographical areas which have seen increases in overall youth crime. Further, current daily news coverage on youth crime, including reports of serious incidences such as car theft and violent break-and-enters, understandably increases concerns for communities around personal safety and home security.
Protecting Our Homes
There are many practical, low-cost steps you can take to harden your home security and make it significantly less attractive target for criminals. While no security measure is foolproof, implementing a combination of behavioural habit changes, and making small physical improvements to your home, can greatly increase your overall security and reduce the risk of being a victim of a break-and-enter and theft.
National Secure Your Home Day – which takes place the last weekend of September – is a community-focused event encouraging all homeowners and residents to dedicate one day to raise awareness of crime prevention and to carry out a simple security assessment of their home. By participating, you can improve your own home's security and help to make your local community safer.
Register now for your FREE National Secure Your Home Day Kit – including a home security checklist, plus evidence-based, proactive security tips to harden your home security.
Register Now
---